Shopping Cart
Your Cart is Empty
There was an error with PayPal
Click here to try again
Thank you for your business!
You should be receiving an order confirmation from Paypal shortly.
Exit Shopping Cart
Jamaica Health Tips Online
Protecting the Environment, Protecting your Health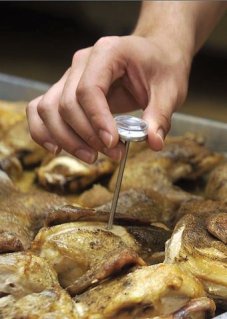 A super power that most Jamaican seems to possess is the ability to test the temperature of foods with their bare hands. Quite often one would use the back of their hand to test how hot a bottle of feed is or how cold the temperature in the refrigerator is. Funny! But it's the truth. Despite this practice may not cause tremendous harm in the home setting, when practiced by food service operators it could result in catastrophic health effects on the Jamaican population.
The temperature of food can only be tested correctly by the use of a
thermometer.
Using a
thermometer
to monitor the temperature of foods while you process, store and distribute them will give you a clear insight of what is happening to the food. Most food service operators constantly ignore the importance of this instrument in their day to day operation and repeatedly abuse the temperature of the food they prepare.
According to the Centre of Disease Control and prevention, two of the top five risk factors responsible for causing food-borne illness involve temperature control. The risk factors are improper hot/cold holding temperatures of potentially hazardous food and improper cooking temperatures of food. Therefore, when negligence is practiced and food is left out in the danger zone, microorganism will start to multiple in the food and rendering the food unsafe.
The range of temperatures that fall between 4.4 degree Celsius and 63.7 degree Celsius are what the food service industry refers to as the danger zone. Food service operators must minimize the amount of time foods are left at these temperatures to prevent food-borne illnesses. The rule of thumb to always remember is to keep hot foods hot and cold foods cold.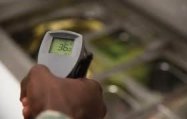 As it relates to the
thermometer
, they are numerous types. However, the two most commonly used types are the
probe
and the
infrared thermometer.
The
probe thermometer
is a thermometer that has a pointy metal stem that can be inserted into food. Use a
probe thermometer
to check internal food temperatures when you cook, re-heat, cool thaw and keep foods hot or cold.  While the infrared thermometer that takes the temperature of the food without coming in contact with the food. Therefore, only the surface temperature of the food that will be obtained.
During a food premises inspection, a
thermometer
is one device a food service operator is expected to have. This will enable him or her to do their own temperature monitoring of the food they are preparing, as they will be expected to fill out the temperature log of each food prepared. This document is very crucial in an inspection, since the Public Health Inspector will be checking it to asses the safety of the food being sold.
Do you sometimes eat food that is at room temperature? Leave your comments below.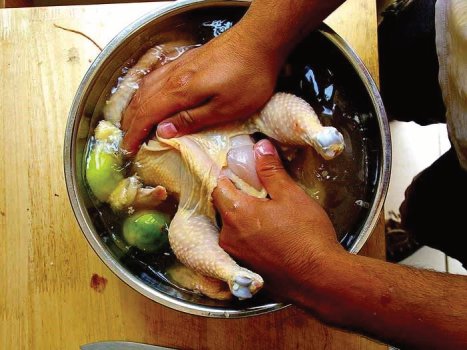 It's a customary practice for Jamaicans and other Caribbean people to rinse their meats in a mild acidic solution prior to cooking. This cultural technique has been practiced for many years,  and is now causing a great controversy in the food safety community. Many Jamaicans normally practice this technique especially when they are preparing chicken, fish or other meats that have a high raw or animal odour. Additionally, it is believed that rinsing meat in lime, lemon or vinegar water will also reduce the bacteria that maybe present.
According to the United States Department of Agriculture Food Safety and Inspection Service, washing raw poultry before cooking is not recommended. This is so, because bacteria in raw meat and poultry juices can be spread to other foods, utensils, and surfaces. Rinsing or soaking chicken does not destroy bacteria., only cooking does.  
Few skeptics are totally against this statement, as they argue that the studies done on these products, did not include the use of lime, vinegar or lemon water, but merely pure water. Having make such an absolute statement they believe the statement is very misleading and may cause more harm than good. Others have even put forth the question that wasn't the germs on the meat harmful before it contaminates other surfaces? Cooking meat with that strong animal smell and bloody water at 350 degrees is basically cooking and eating 350 degrees of filth.
One reason, this statement is backed by most food safety regulatory body is that, during the washing of meats, spillage from the meat could contaminate kitchen utensils, counter tops and other areas we may be unaware of. Therefore, simply wiping down your kitchen counter will not clean your kitchen to a safe enough level. As a result, while performing other task the possibility of spreading germ to other areas is high.
The on-going debate in the food safety community is one that has caught the attention of many. Some strongly opposing the statement, while the anti-rinsing camp is growing by the minute. In spite of the number of studies done, culturally most persons may find it difficult to do away with this practice. This is because it is arguable that the washing of meat in mild acidic solution does not only reduce germs and rawness on the meat but also adds flavour.
Do you rinse your meat before cooking?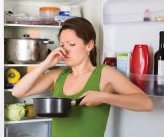 Many persons might have never asked the question, what cause food to spoil? But in their private thoughts this un-answered question lingers. We have been impregnated with articles on food safety, how to identify spoiled foods and the implications of consuming them, but rather seldomly, are we given the knowledge on what cause our foods to spoil.
As outlined in an article written byLohani and Garg, 2009 titled, Food Spoilage and Control. Food spoilage is an undesirable change that has occurred in the colour, flavour, odour, or texture of the food. The onset of food spoilage is rather indefinite. It is a gradual process occurring because of poor sanitation, enzymatic or chemical reactions, improper temperature control, microbial growth or physical abuse of the food.
This therefore means, that it is not just the growth of microorganisms on foods that cause them to spoil. Food can be spoil in two ways; microbial spoilage and non-microbial spoilage. Here now are the factors that are associated with each spoilage.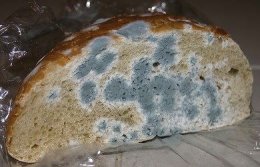 Microbial Spoilage
All foods contain some level of microbes on them even before they enter the food chain. These microbes could be natural flora that exist on the food or it could be from the environment e.g. soil or air. In essence, we could say that the food was contaminated with microbes even before we come in contact with it. Therefore, for microbes to multiple on the food to cause it to spoil, there has to be some intrinsic or extrinsic factor fueling such process.
Foods containing nutrients, water availability (high in moisture), oxygen, low in acidity and is not being stored at the correct temperature will facilitate the rapid growth of microbes in them. What we really consider spoilage to be could actually be a delicacy in other cultures. As what appears to be undesirable to our sense of appeal, is in fact the reaction and metabolic activities of the microbes. During the process of them growing, they are producing acids, gases, slimes, toxins, waste and other by-products. These are what we are seeing on the food, not the microbes themselves. It is therefore, for this reason why they appear to be undesirable.
It should not be mistaken to think that spoiled foods are all safe to consume, however; its imperative to note that not all spoiled foods are unsafe. E.g. Wine, Yogurt, cheese, pickles, sauerkraut etc. These foods are derivatives of foods that have undergone some level of undesirable changes in there flavour, colour, texture and odour. In other words, the milk has to undergo a state of spoilage in order for it to be in a form to make cheese.
With that said, its crucial that we understand that the process is done under a controlled environment and readers should never think to consume spoil foods. As there could be serious health implications associated with such practice, if foods are not first pass fit for human consumption.
Non-microbial Spoilage  
As was mentioned before, food spoilage is not only the result of microbial effects, but also factors such as chemical reaction in the food itself or with its packaging material. Enzymes are naturally occurring chemicals found in all living things. There function is to speed up or slows down the chemicals in the foods that cause them to go through the different stages of maturity. E.g. the banana which was unfit, then become ripened after which it becomes over ripened and there is a change in its texture, colour, odour and flavor.
Another form of chemical reaction that also occurs in food is called rancidity. This is actually the oxidation, hydrolytic or ketonic break down of fatty acids in foods to a smaller form, releasing certain odiferous products.
The packaging material e.g. cans used in packaging foods can also react with the food.  Additionally, if foreign objects such as; bolts, nails, nuts etc. contaminate the food, it  may result in a chemical reaction which cause an undesirable change in the food.
In conclusion, food spoilage is not necessary an undesirable thing, as some foods have to undergo certain changes in order to facilitate the creation of other foods. 
Have you ever eaten spoiled food?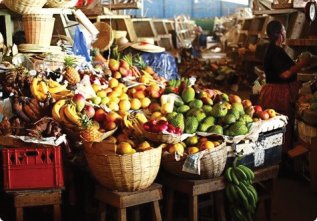 It's great to see many Jamaicans adding more fruits and vegetables to their diet nowadays, but eating healthy is not the only thing we should focus on. When purchasing our fruits and vegetable we tend to shy away from the ones that have been bitten by insects or that have insect parts on them, but are we really equipped with the correct information to identify good quality fruits and vegetables in the market place? Generally, these foods ought to be consumed when they are fit and not to be offered for sale in an over ripe, rotten, parasitic or poisonous condition.  Over ripe fruit is known to cause diarrhoea and other complications.  Here are things to look out for when purchasing these produce in the market place;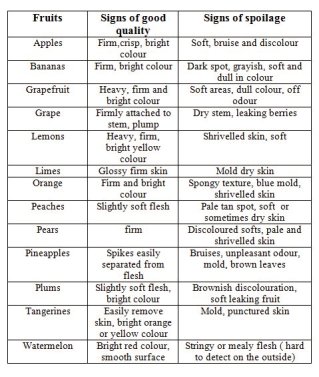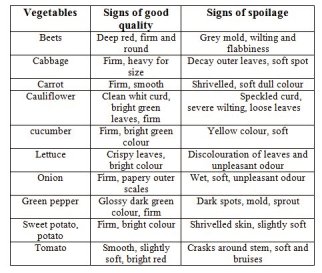 Eating healthy is good but never neglect safety in the process. Remember your health is your responsibility so shop smart and responsible.
Do you inspect your vegetables and fruits before you buy them?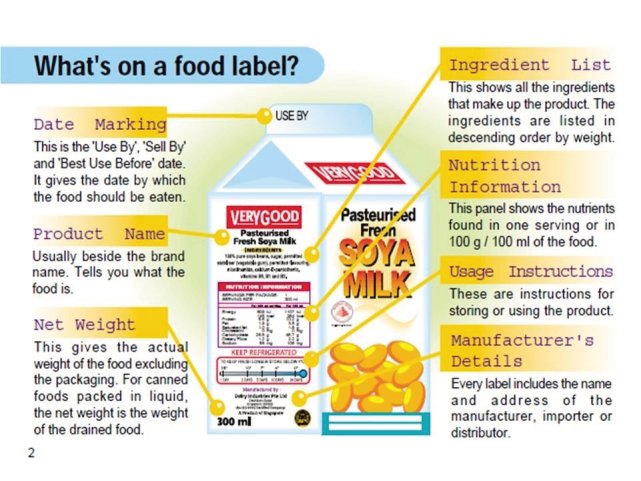 Have you ever purchased an item in a food handling establishment, but only to realize later that the product is expired? As  Jamaicans we need to pay more attention to what we are purchasing and bringing home to our families. In order for us to be informed consumers, we need to read our labels more often. 
 A label is a tag or other descriptions matter printed, embossed, impressed or attached to the container of a product. This  helps to advertise the product and most importantly gives the consumer information about the product, necessary to make  the best buy. Against that back, this means that it is crucial for a label to be accurate and reflects the true nature of the  product.
 A label consists of two main areas;
The main Panel/ principal display panel
Information Panel
 The main panel should contain the;
 product name,
 brand of the product
net weight of the product
 The information panel should contain the;
 list of ingredient
country of origin
name and address of processor, manufacture, packer, importer or distributor.
expiry date/best before date
 storage information
 instruction for use
 nutritional information (optional)
Batch code/number
Precautionary statement (warning etc. about the product.)
 N:B.  All information presented must be in English
 In Jamaica the two entities that determine what information is presented on a label are the manufacturer and the Bureau of Standard  Jamaica. With that said it is critical to note that no product should be purchased without a label, most importantly bulk chemicals  and detergents.
DO YOU READ THE LABEL WHEN PURCHASING ITEMS? LEAVE A COMMENT BELOW.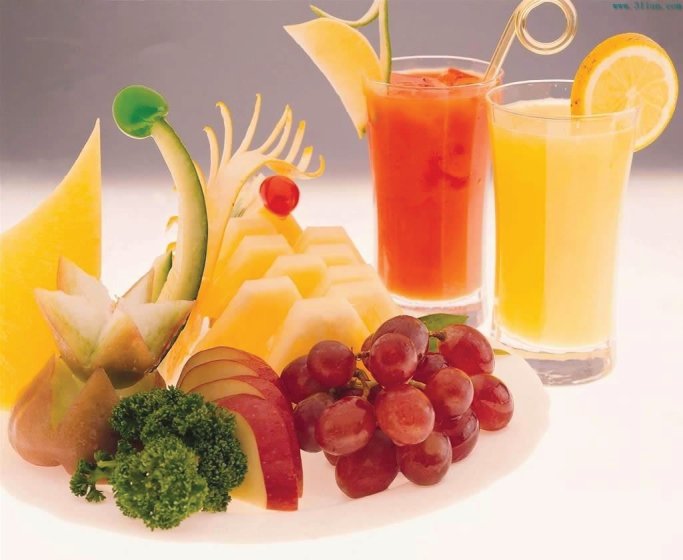 As defined in the Collins English Dictionary, 1819 a fruit juice is a beverage made from liquid squeezed from a fruit or fruits. With that said, can we legally call juice from concentrate 100% fruit juice? This seems to be the new way of advertising fruit juices blended with other ingredients, such as high fructose corn syrup or artificial sweeteners, additives and coloring.
 Many may argue that fruit juice made from concentrate is juice adding back the water that was removed in the evaporation process. Yes, but evaporation which is heating the juice to high temperature will destroy certain nutrients and enzymes in the natural fruit. In addition, juice from concentrate would also have most of its water removed through filtration and extraction. Extraction involves adding some chemicals to get a more condensed product. 
According to the Dictionary of Food Science and Technology, Juice from concentrate is also pasteurized as part of the process to extend its shelf life. As a general rule, the more processing a food undergoes, the more potential there is for nutrient loss. On the contrary, according to the Complete Book of Food count, the differences are not great. One cup of 100% orange juice from concentrate, for example contains 100 milligram and 40 micro-gram of beta-carotene, compare to 125 milligram of vitamin c and 80 micro-gram of beta-carotene in fresh squeezed varieties.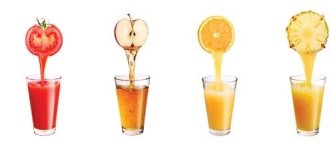 The writer will not dismiss the fact that 100% juice from concentrate with no sugar added is healthier than juice made from concentrate with sugar added, however it's in my opinion that juice from concentrate should not be advertise as 100% natural fruit juice. As consumers we need to take charge in the market place, read labels since it is the only thing that will provide us with information needed to guide us in making a wise and informed choice.  Please share your views and knowledge on this topic.
Do you drink a lot of juices that are made from concentrate?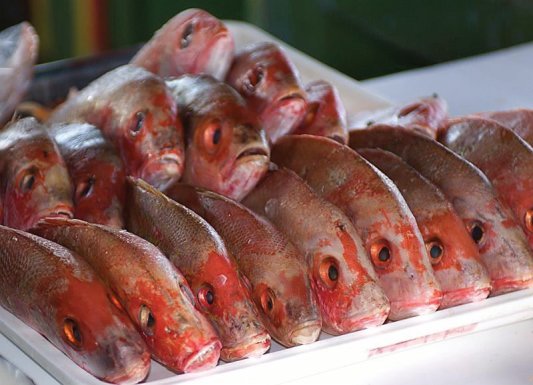 Fish, when freshly caught, is relatively wholesome.  The quality of the fish starts to deteriorate as soon as it is taken  from the water.  The principal cause of fish condemnation is decay.  Factors influencing the rapid spoilage of fish are: 
Microbial – several species of microbes are always present in the surface slime and intestinal tract of the healthy fish.  As long as the fish remains alive, these are held in check and the flesh of the healthy fish remains sterile.  However, as soon as the fish dies, these reproduce rapidly and attack all the constituents of the tissues.  Since these organisms live on the cold-blooded vertebrate at low ocean temperatures, they are able to resist ordinary refrigeration temperatures.  If microbial decomposition must be retarded, fish, upon being caught, should be immediately stored at temperatures below 0ºC.
Physiological – due to the fight and consequent exertion when caught, glycogen in the muscles is depleted or nearly so.  There is therefore little glycogen to convert into lactic acid in slowing bacterial growth in muscles is limited.
Chemical – besides bacteria, enzymes act upon certain constituents of the fish, breaking it down into simpler substances.  This is called self-digestion or autolysis. The growth and activities of certain bacteria on the surface of the fish produces undesirable chemical substances called trimethylamine which is responsible for the fishy odor of spoilt fish.  This chemical then diffuses into the flesh of the fish causing spoilage.
Characteristics of Good Wet Fish
Clear, bright, slightly protruding eyes with black pupils.
Gills are bright red in color, odorless and usually closed.
Moderate amount of natural slime covering fish, skin shiny and color unfaded, scales are strongly adherent, creamy white or transparent slime.
Flesh is firm to the touch, solid, opaque, elastic and strongly attached to backbone.
Abdomen clean and free from offensive odor.  Belly walls are firm with no discoloration.
Blood along the backbone in the visceral cavity is bright red.
Pleasant odor (briny)
Body stiff and tail rigid.
The carcass will sink in water.
 Characteristics of Stale Wet Fish
Dull, sunken grey eyes which will disappear in extremely rotten fish.
Gills are of very pale pink or dark brown color, slimy and have foul odor.
Natural slime is yellowish and has a bad odor, dull appearance, many missing scales as they are easily detached from the skin.
Flesh is soft and limp, transparent and pits easily on pressure and can be easily loosened from backbone.
Abdomen discolored with offensive odor, belly wall soft and discolored.
Blood along backbone is dark to black in color, with foul odor.
Strong rank odor, progressing into a putrid, rotten fish odor.
Body limp and pliable.
The carcass will float in water.
Care of Fresh Fish
     1. Minimum handling – the less handling fish receives, the longer it will remain wholesome and the less likelihood of it causing fish            poisoning.
     2. Fresh fish should be buried in ice that is relatively finely ground or shaven.
     3. It is poor practice to allow fish fillet, sliced fish or fish with flesh exposed to come in direct contact with water or ice as this will          spoil the flavour and appearance and result in a soggy unpalatable product.
     4. Refrigeration is necessary at all times to keep down bacterial action and autolysis.
 Smoked Fish (Herring)
  Good Fish
     1. Flesh should be firm, dry and free from stains
     2. Flesh should have fresh, clean, smoky odor
  Bad Fish
     1. Flesh is sweaty, soft and slimy.
     2. Flesh is moldy and has bad odor.
  Dried Saltfish 
 Good Fish
     1. Flesh should be firm, clear in colour, fairly dry on surface, neatly trimmed.
     2. Always stored in dry cool place.
     3. Free of insect pests and dirt.
 Bad Fish
Flesh is discolored, (pink fungus growth).
Wet and moist saltfish not properly stored.
May be infested with Lasioderma or other pests.
 Pickled Fish  
  Good Fish 
      1. Fish should be covered with clean liquor.
      2.Odor should be pleasant, pickle odor. 
      3. Fish should be firm and free from bloodstained and broken pieces. 
 Bad Fish
Fish only partially covered or covered with muddy liquor.
Foul or rancid odor
Fish is bloodstained, discolored and broken into pieces.
 Sound Oysters
 The outside should be clean and free from dirt, with shells tightly closed. 
  When a handful is rubbed together, they will sound like pebbles.   
  They will sink in water and has a pleasant odor.      
  If the pH of the liquor is tested, it will be between 6 and 7. ·      
  The liquor appears milky especially during the spawning season (spring).  
 Stale/Unsound Oysters    
 Shell not closed.    
 When shaken, does not have a pebble like sound.   
 Unpleasant odor, excessive dirt and slime.    
 PH of the liquor more acidic and has an opaque appearance.    
 has a black or dark ring in the inside of the shell ·     
 Floats in water.   
 Oysters removed from shell should be stored in sterile containers and if being kept for over 4 days, should be stored  at 30ºF or  below.
 Source: Marcia Reid (lecturer at University of Technology, Jamaica.  Lecture notes.)
  Are you buying safe fish? leave a comment below.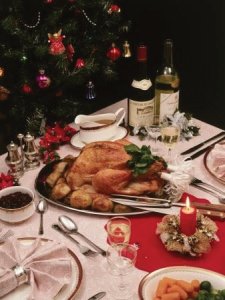 Well it's just 3 days away before Christmas and Jamaicans are preparing for wonderful large cooked meals. Most Jamaicans do not realize that the food they consume during Christmas is usually high in fat and calories, but taking a closer look has revealed that there can be some hidden health benefits too. 
Very few Jamaicans eat turkey as their main dish during Christmas, but some studies show that Turkey contains high levels of protein but without the large quantities of saturated fat found in some red meat, it also has lower cholesterol levels than pork, chicken or beef.
It has been said that some Jamaican vegetables like cabbage, may help reduce the risk of some cancers, as they contain high levels of antioxidants. And Christmas in Jamaica is not complete without dark chocolate, which is a good source of magnesium and contains a variety of bio-active compounds believed to lead to good cardiovascular health and prevent joint problems. 
However chocolate is a high-calorie food and should be eaten in small moderation. leave a comment below.
What healthy foods are you planning to eat this Christmas? 
leave a comment below.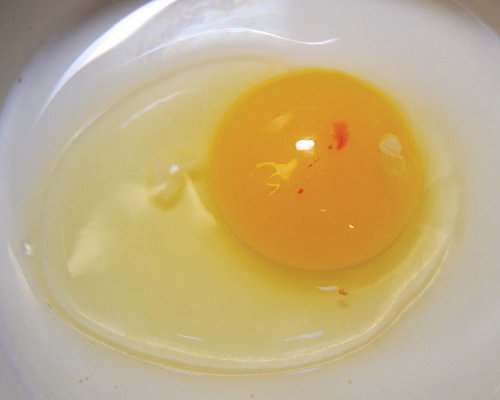 Eggs are one of the most economical and nutritious food known to man. It is important to however, not to mismanage eggs during the time of production through to consumption.  This is because mismanagement may compromise the safety and the quality of the egg and consequently facilitates the growth of microorganisms which can have deleterious effect on the health of the consumer.  
Eggs have been classified by many including the Food and Drug administration as being a potentially hazardous food. This is because it has being implicated in numerous foodborne disease outbreaks such as Salmonellosis. (FDA, 2001) According to the Ministry of Agriculture and Fisheries, (2011), it is estimated that the average yearly production of eggs in Jamaica is at 120,977,659. Consequently there are approximately 16,200 unmonitored small egg farms contributing to the yearly production of eggs in the island, (Williams, 2004). This is of major public health concern because some eggs which you consume could be contaminated with deadly microorganisms that may result in loss of life.
 Most commercially produced eggs reach supermarkets within a few days of leaving the egg farm. If the market and the buyer handle them properly, they will still be fresh when they reach the table.  As an egg ages, the egg white becomes thinner and the yolk becomes flatter.
Blood Spots
Blood spots also called meat spots, occasionally found on an egg yolk. Contrary to popular opinion, these tiny spots do not indicate a fertilized egg. Rather, they are caused by the rupture of a blood vessel on the yolk surface during formation of the egg or by a similar accident in the wall of the oviduct. Less than 1% of all eggs produced have blood spots. As an egg ages, the yolk takes up water from the albumen to dilute the blood spot so, in actuality, a blood spot indicates that the egg is fresh. Both chemically and nutritionally, these eggs are fit to eat. The spot can be removed with the tip of a knife, if you wish.
  Table 1 : Showing the quality of egg from very fresh (left) to stale (right).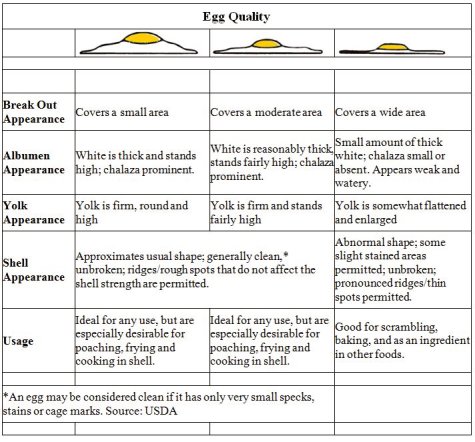 How are eggs handled safely?
Proper refrigeration, cooking, and handling should prevent most egg-safety problems. Persons can enjoy eggs and dishes containing eggs if these safe handling guidelines are followed:
Wash utensils, equipment, and work areas with hot, soapy water before and after contact with eggs
Don't keep eggs out of the refrigerator more than 2 hours.
Raw eggs and other ingredients, combined according to recipe directions, should be cooked immediately or             refrigerated and cooked within 24 hours.
Always cook eggs until both the white and yolk are firm.
Casseroles and other dishes containing eggs should be cooked to a safe minimum internal temperature of 160 °F. use a food thermometer to be sure.
Serve cooked eggs and dishes containing eggs immediately after cooking, or place in shallow containers for quick cooling and refrigerate at once for later use. Use within 3 to 4 days. 
Source : Marcia Reid (lecturer) @ University of Technology, Jamaica.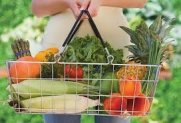 Genetically Modified Foods
These are foods, in which the genetic material has been altered in a way that does not occur naturally. From prehistoric time plants and animals have been involved in selective breeding. Scientists first discovered that DNA can transfer between organisms in 1946. The first genetically modified plant was produced in 1983, using an antibiotic-resistant tobacco plant. 
In 1994, the transgenic Flavr Savr tomato was approved by the FDA for marketing in the US - the modification allowed the tomato to delay ripening after picking.  
Advantages Genetically Modified Foods
• Genetically modified food technology can develop crops with higher yield, with less fertilizer, less pesticides, and more nutrients.
• Decrease of maturation time of the plants, so they can be harvested sooner, stay riper longer and more often during the year. 
• Foods are more resistant and stay ripe for a longer period of time.
• Reduction in food-borne illnesses e.g.  Foods causing allergic reactions.
• Developments of new kinds of crops that can be grown at extreme climates.
• As more crops can be grown and at more places, this decreases global warming through the increase of oxygen in the environment and the decrease of carbon dioxide.
• Enhancement of the size of food.
• Less labor requirements. 
• Less factory additives needed.
• Scientific development of agriculture, health and related sciences due to the better understanding of the products. E.g. the development of new medicines.
Disadvantages Genetically Modified Foods
• Harm to other organisms. E.g. genes and their effect included in a crop may turn out to be poisonous to insects (monarch butterfly poisoned by Genetically Modified Foods corns).
• Scientists can choose which genes to manipulate, but they don't yet know where in the DNA to precisely insert these genes and they have no way of controlling gene expression. 
Genes don't work in isolation, changing a few could change the whole picture, with unpredictable results.
• Genetically modified crops cross-pollinate with nearby non-genetically modified foods plants and could create ecological problems. 
• Genetically Modified Foods technology companies patent their crops and also engineer crops so that harvested grain germs are incapable of developing.
• Since the production of engineered food involves infusing animal genes in the crops and tampering with nature, it might not be good for consumption in the long run.
• Genetically engineered food would increase the dependency of developing countries, on industrialized nations. This would result in a dominance of the world food production by a few countries. New advances may be skewed to the interests of rich countries.
• The biggest disadvantage of genetically modified food is that they have harmful effects. on the human body. The consumption of these genetically engineered foods can lead to development of diseases that are immune to antibiotics.
• Possible creation of new kinds of weapons; genetic food and beverage weapons.
• Herbicide-resistant and pesticide-resistant crops could give rise to super-weeds and super-pests that would need newer, stronger chemicals to destroy them.
Conclusion
The advantages and disadvantages of genetically modified foods are numerous and is strongly dependent on the consumers' preference and the developers' motive. All genetically modified foods should be labelled by law, however according to many articles reviewed most popular brand fail to label their products genetically modified.
Do you support companies that produce Genetically Modified Food? 
leave a comment below and share your views
/