Shopping Cart
Your Cart is Empty
There was an error with PayPal
Click here to try again
Thank you for your business!
You should be receiving an order confirmation from Paypal shortly.
Exit Shopping Cart
Jamaica Health Tips Online
Protecting the Environment, Protecting your Health
| | |
| --- | --- |
| Posted on July 8, 2018 at 6:44 PM | |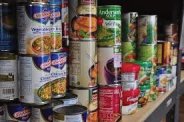 While many Jamaicans consider it to be a cheaper alternative to fresh food, canned foods have been a staple in many families' diet around the world since the nineteenth century.  Once canning was perfected on an industrialized scale in 1813, there has been a steady increase in the variety of foods being canned. Canned foods are considered to be commercially sterile, as all microorganism are destroyed when the sealed can is heated to very high temperature. This is the reason canned foods have such long self-live.
It can be difficult to the untrained eyes to know when canned foods are unsafe and unfit for consumption. As a result, it occurred to me to discuss some basic methods Jamaicans can use to assess the safety and wholesomeness of their canned foods before they purchase them.
 Observation of outer appearance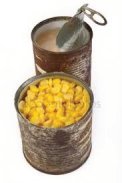 Anormal can should possess a clean appearance, free from rust, dust, stains, holes, bulge and have slightly concave ends. Seams should be intact and free from leaks with label clearly showing the content of can, brand and the weight of the product. (e.g. Grace Corned Beef, 400g.)
This is the process of applying pressure to one end of the can, if it flips back and return to its original position when release, then early stage of decomposition as started. This is known as a Flipper.
A springer is when pressure is applied to one end of the can, resulting in a distention to the other end that will not return to its original position when released. This is because the microorganism would have produced more gas in it, when compared to the Flipper.
A bulging can does not always means its content is decomposing. It could be that the can was inadequately vacuumed during the canning process, the can was overfilled during canning or there is a chemical reaction between the food and the can. This process is called hydrogen swelling.
This is the process of tapping on the can to assess the quality of the food. If the can is sound, when tapped it will give off a dull note. On the contrary, if gas is in the can it will give off a higher pitch.
This method is only applicable with canned foods that are not prepared with any liquor (sauce) in it, e.g. canned corned beef. This process is done by shaking the product back and forth and listening for a watery sound. Hearing any movement or watery sound in a can signifies that decomposition has started and the food is not safe.
Canned foods can also deteriorate without showing any form of gas production in the tin. This is called flat sour and occurs when thermophiles (heat loving microbes) produce acid in the can but not gas. This is impossible to detect expect by opening the can.  Its very critical to note that this product should not be consumed as it is unfit for human consumption.
Despite canned foods are considered one of the safest food to consume, they can cause severe health implications or even death if consumed when they are not safe. 
Are you inspecting your canned foods for safety?
Categories: General Health
/