Shopping Cart
Your Cart is Empty
There was an error with PayPal
Click here to try again
Thank you for your business!
You should be receiving an order confirmation from Paypal shortly.
Exit Shopping Cart
Jamaica Health Tips Online
Protecting the Environment, Protecting your Health
| | |
| --- | --- |
| Posted on July 22, 2018 at 7:11 PM | |

As I seek to educate the public on critical topics such as cleaning and sanitization of utensils and equipment. I am always disappointed with the little they know about how to effectively clean. Many Jamaicans when asked how they would clean a dirty surface, will tell you they use bleach and soap to get rid of dirt. The shocking reality is, most cleaning agents contain ammonia and other chemicals, which when combined with bleach form very deadly and carcinogenic compounds.
A very common one is known as Chloramine; this chemical is a derivative of ammonia that is formed by the replacement of multiple hydrogen atoms with chlorine atoms. There are widespread reports of health problems from chloramines. Chloramine is a volatile gas that can result in death if inhaled in a confined space, like a shower, closet, or closed garage
Additionally, the mixing of certain detergent and chlorine will reduce its potency. This is because the detergent components become very unstable when they react to bleach and loses its emulsifying property. As for the disinfectant property of the chlorine, it will be less effective in killing some of the most common pathogenic microorganisms you find on the items you clean.
Have you ever experience a bubbling effect when you pour bleach into soap water? This reaction is as a result of mixing an acidic detergent with chlorine. The effects from such reaction are numerous and very severe.  Acids are present in glass and window cleaner, automatic dishwasher detergents and rinses, toilet bowl cleaners, drain cleaners, lime, calcium and rust removers, and brick and concrete cleaners.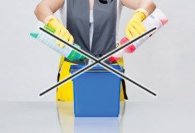 When a product containing acid is mixed with chlorine bleach, chlorine gas is formed.  If a person is exposure to Chlorine gas, even at low levels, it will irritate the mucous membranes and causes coughing and breathing problems.  In higher levels it may result in chest pain, vomiting, pneumonia and fluid in the lungs and at very high levels of exposure can cause death.
It's not just ammonia and acids mixed with bleach that can be hazardous to your health.  Certain cleaning product that are high in alkalinity with highly acidic products are very caustic. These products can react violently, causing chemical burns. 
In conclusion, it is crucial that we stay away from mixing household chemicals and ensure we read our labels to see how we should mix them. We have to take our health seriously and it starts from the little things we take for granted on a daily basis.
Have you ever mixed cleaning detergent with chlorine bleach?
Categories: General Health
/