Shopping Cart
Your Cart is Empty
There was an error with PayPal
Click here to try again
Thank you for your business!
You should be receiving an order confirmation from Paypal shortly.
Exit Shopping Cart
Jamaica Health Tips Online
Protecting the Environment, Protecting your Health
| | |
| --- | --- |
| Posted on August 12, 2018 at 6:24 PM | |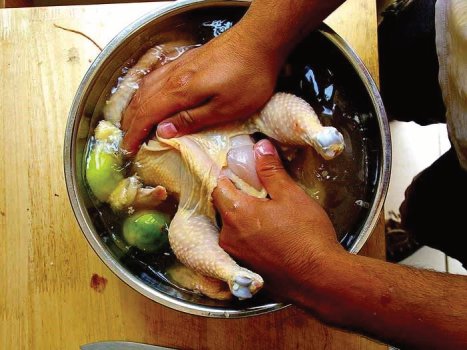 It's a customary practice for Jamaicans and other Caribbean people to rinse their meats in a mild acidic solution prior to cooking. This cultural technique has been practiced for many years,  and is now causing a great controversy in the food safety community. Many Jamaicans normally practice this technique especially when they are preparing chicken, fish or other meats that have a high raw or animal odour. Additionally, it is believed that rinsing meat in lime, lemon or vinegar water will also reduce the bacteria that maybe present.
According to the United States Department of Agriculture Food Safety and Inspection Service, washing raw poultry before cooking is not recommended. This is so, because bacteria in raw meat and poultry juices can be spread to other foods, utensils, and surfaces. Rinsing or soaking chicken does not destroy bacteria., only cooking does.  
Few skeptics are totally against this statement, as they argue that the studies done on these products, did not include the use of lime, vinegar or lemon water, but merely pure water. Having make such an absolute statement they believe the statement is very misleading and may cause more harm than good. Others have even put forth the question that wasn't the germs on the meat harmful before it contaminates other surfaces? Cooking meat with that strong animal smell and bloody water at 350 degrees is basically cooking and eating 350 degrees of filth.
One reason, this statement is backed by most food safety regulatory body is that, during the washing of meats, spillage from the meat could contaminate kitchen utensils, counter tops and other areas we may be unaware of. Therefore, simply wiping down your kitchen counter will not clean your kitchen to a safe enough level. As a result, while performing other task the possibility of spreading germ to other areas is high.
The on-going debate in the food safety community is one that has caught the attention of many. Some strongly opposing the statement, while the anti-rinsing camp is growing by the minute. In spite of the number of studies done, culturally most persons may find it difficult to do away with this practice. This is because it is arguable that the washing of meat in mild acidic solution does not only reduce germs and rawness on the meat but also adds flavour.
Do you rinse your meat before cooking?
Categories: Food
/